Great Grandmaster Yeh Yu-Ting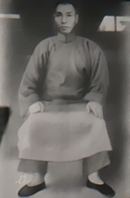 The late Great Grandmaster of Mi Zong Lo Han, Yeh Yu-Ting, learned the Lo Han system from his father and uncle, just as it was passed down from generation to generation in the family for seven generations. Because of his quick mastery of this demanding martial arts system, he was drafted into the family security service business in goods transportation at an early age. Bandits and robbers were fearful of his kung fu prowess as they were routinely defeated in battle, in their attempt to steal the goods. Due to his reputation, he was invited as a military instructor where he taught in several military regiments for more than 10 years. He was later invited to teach at the Chin Woo Association in Shanghai, China, for approximately six years as a senior instructor. It was here that he polished up on the mi-zong system of the famed Huo Yuan-Zia. He was dispatched by the Association, brought the Lo Han system from his native Hebei province to Hong Kong in the 1920's. He taught at the Hong Kong South China Athletic Association and met up with 2 other northern kung-fu stylist, who later became known as the "3 Tigers from Hebei". He taught hundreds of students and disciples over the years.
Grandmaster Yep died in Hong Kong on December 15, 1962 at the age of 70 with his loyal students at his bedside. However, his famed legacy and the Mi-Zong Lo Han system continue to be taught by his senior disciples. Among the few surviving senior disciple is Grand Master Raymond Wong, who later learned the northern Tai Chi Praying Mantis system from the famed late Grandmaster Chiu Chok-Kai, and the Dao Ga system (the Taoist family style).
Grand Master Raymond Wong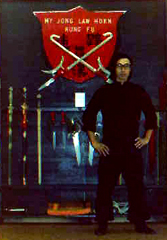 Grand Master Raymond Wong is the first of several senior Mi Zong Lo Han disciples to immigrate to North America. He left Hong Kong in 1968 with a brief stay in Vancouver, B.C., Canada, before he moved to San Francisco and later to Los Angeles in 1971. He impressed the West Coast exhibition spectators with his speed, smooth agility and light-footedness in his exhibition tours in the early and mid-1970s. He was featured on the cover of the 1973 Black Belt Magazine yearbook along with a lengthy main article. A number of other articles were written about him by major martial arts magazines, including Inside Kung Fu. Soon thereafter, Johnny Lee immigrated to the U.S. (former chief instructor and founder of the White Leopard Kung fu school in Florida and Louisiana), currently in Dallas, Texas. Another disciple, Hilton Tam, also moved to the United States. He tauaght Mi Zong Lo Han and resided in Cleveland, Ohio, before he passed away recently. And Chi-Hung Marr, the most senior disciple in North America, is currently coordinating several martial arts classes on the East Coast.
Included in the mass migration of the late Grandmaster Yeh's disciples are Wing-Kin Chao in Toronto, Canada, Tung-Yam Lau's student Alex Kwok in Calgary, Alberta, Canada and several others in Australia. However, Mi Zong Lo Han is alive and well in Hong Kong where Chi-Hung Marr's students conduct classes at the Kowloon Chin Woo Association. Classes are also held at the South China Athletic Association under the direction of Tung-Yam Lau's son. Tung-Yam Lau was the eldest disciple of Grandmaster Yeh.
Grand Master Raymond Wong have taught thousand of students since 1971 at numerous locations in Southern California. Currently, he conducts a class at a park in San Gabriel, CA. His students are charged with continuing the legacy in the western region of the United States under his leadership through classes conducted by his first generation of student/instructors (in order of seniority) Ron Quan, Los Angeles Chinatown, Kee C. Ling, Camarillo, Ca, Fred Ho, University of Southern California campus and University of the West campus.
Other students/instructors consists of Douglas Williams in Seattle, WA. and Corey Wong in Oahu, HI. Brian Tuan, UC Irvine, originally a student of Dominic Cheung (first generation, 5th in line after Mar Elepano) and Kurtis Fujita, Simi Valley, Ca. Don Dini in San Jose, Ca.; Justin Ling, Camarillo Kung fu Club, student of Kee Ling; Okis Fong and Wayland Tam, East Wind Foundation for Youth, L.A. Chinatown, CA. – students of Ron Quan.
Master Kee Ling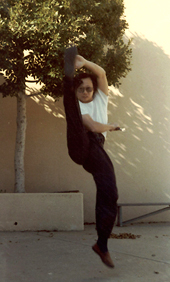 Kee Ling began his martial arts studies in his early teens in tai chi, then moved on to karate and taekwondo before he settled in with Mi Zong Lo Han in the early 1970's in Vancouver, B.C., Canada, under the instruction of Sifu Alex Kwok. After he moved to LA in 1975, he continued his studies under Master Raymond Wong.  To foster his interest in lion dancing, Kee Ling joined the original few members and classmate, Sifu Ron Quan of the East Wind Lion Dance foundation, LA Chinatown, at the Lung Kong Benevolent Association in 1976. Soon thereafter, they moved out of the facility to several other locations over the next few years. While performing kung fu on behalf of the group and assisting in the instruction of kung fu to its "home boys", he learned Southern China lion dancing from the group. At the same time, he continued his studies of Mi Zong Lo Han with Grand Master Raymond Wong. The unique liason continued until he moved out of the area in 1981. In January 1982, he established the Camarillo Kung Fu and Lion Dance Association in Camarillo, CA.
Instructors trained at the Camarillo Kung Fu Association include Art Gonzales who teaches at Santa Paula Recreation and Park district; Justin Ling, Samantha Hinde and Dr. George Yu, assistant instrutors in Camarillo.